Shango home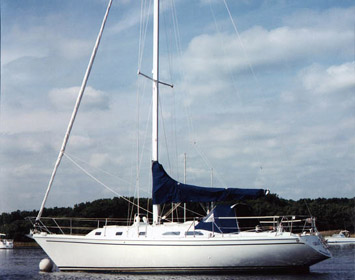 Great Notions
Plum Island
April 12, 2001
Great Notions is an Ericson 35-3. The first Ericson 35 was designed and built in 1969 by Bruce King. He designed the 35-3 model in 1982 and Great Notions, hull number 215, was built in 1985 and purchased in May of that year by the original owner. I purchased Great Notions in 1998 and since then have been steadily upgrading her.
I would describe the Ericson 35-3 as a well designed coastal cruiser. It is a masthead sloop with a fairly deep fin keel (6 feet 2 inch draft) and spade rudder. In my opinion the quality of construction and materials is above average for the production market. In the early 90's Pacific Seacraft purchased Ericson but as of 2000, Pacific Seacraft has halted new production of Ericson 35s. A very loyal owners group provides a wealth of information and advice about this model in particular and the Ericson line in general. A web site, www.ericsonyachts.com, is maintained by current owners and Sailnet hosts a very informative email list service.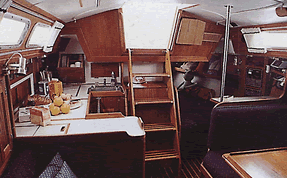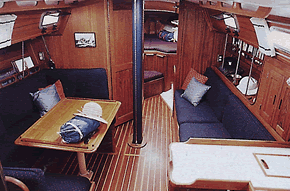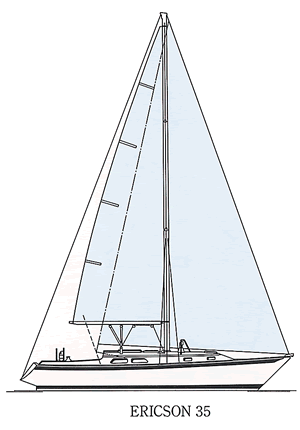 Sails

The original sails were replaced in 2000. They are 8 oz. Dacron from North Sails. The main is full battened and has three reef points. The genoa is a 130. An asymmetrical cruising spinnaker came with the 1998 purchase and appears to have had very little use by the original owner. The acquisition of an ATN chute has made this sail a pleasure to use in winds below 15 knots. Last season's experience with the new sails reinforced for us the opinion of many owners that the Ericson's initial tenderness at 15-18 knots can be very much improved by new, stiffer sails. I purchased the 130 genoa instead of the more normal 150 in recognition of the Ericson's ability to move and point very well in light airs. With the smaller genoa, I was hoping to be able to maintain good sail shape and performance as I continued to furl the genoa above 18-20 knots. So far this strategy seems to have been the right one. In retrospect I think I could have gone with even a smaller genoa given how well the boat moves in light air.

A new Harken genoa furler was installed in 2000 as well. In 1999 the original traveler was replaced with Harken's big boat traveler. A new Forespar whisker pole was purchased in February of 2001 and will see its first use on our trip this summer.

As a coastal cruiser/racer the boat has great performance in light airs. With any breeze above 5-7 knots she moves quite well and can easily point closer than 35 degrees apparent. Above 18 knots the main gets its first reef followed by several turns on the genoa furler. Above 23-25 knots its time for a second reef and another 3-5 turns on the furler as well as a lowered traveler and flattened main. We have not been in a blow consistently above 30 knots with the new sails, but I imagine that with that amount of wind we would be going to the third reef as well as furling the genoa as much as its shape allows. Before the new sails I found myself in a blow one afternoon with consistent winds of 45-50 knots. With two reefs in the main and the maximum furling possible I felt comfortable so long as I did not try to point. Fortunately I was able to sail 50-70 degrees off the wind which is the boat's most comfortable point of sail in strong winds.




Engine and Mechanical Systems

The original Universal 21 HP 3 cylinder diesel has been maintained well. In the three years that I have owned it I have not experienced a single problem. Bleeding air from the system, clearing fuel blockages, over heating or poor performance from the injectors, to this point, have all been theoretical problems. The owner of the yard where we store our BOATS (sound crazy? See Shango) will review the engine and its systems with us prior to departure and together we will map out a preventative replacement plan. I am looking forward to this education.

At 2300-2500 rpms in calm seas the boat moves at just about 6 knots. At this rpm level the engine burns approximately a half-gallon per hour. These numbers obviously change in bigger seas and I also assume they will change as we move all our belongings and provisions aboard!

We currently have a small alternator, 55 amps, two 80-amp deep cell 12-volt batteries for both house and crancking, and a battery charger. As you will see under Planned Projects Before Departure, major changes are planned for the electrical system.

Tankage is 90 gallons for water 40 gallons for fuel. We plan to carry on deck additional containers of both diesel and water, probably 20-25 gallons each. We're expecting water to be our biggest issue in the Bahamas and without a water maker we will undoubtedly need to buy it on occasion.

Our refrigeration system is the original Adler Barbour unit which to date has performed flawlessly for us. Our refrigeration strategy has been to use two blocks of ice with a daily boost from the cold plate when under power or at anchor. This strategy usually requires two new blocks of ice per week. We lived all last summer on Amy's boat in Boston Harbor with no refrigeration and since I fully expect the Adler Barbour to fail during our trip we are both prepared to survive without it if necessary. Like a radar purchase, a new fridge has not made the top of our budget's priority list.

In 1999 I bought a 9 foot inflatable Zodiac and 3.3 hp Mercury. We've been happy with both. Many folks talk about having as large a dink and engine as possible. I sure would miss the ease of removing the engine from the dink onto the stern rail with one-hand. I guess that's why you see engine lifts in the cruising magazines. The speed is fine and the high flotation tubes make it very stable and dry. The size is adequate as well. If you are powering into a chop with a lot of wind you're going to get spray but this will happen on all but the biggest boats.






Electronics


Electronics include a fixed mounted Furuno GPS at the Nav station with a Horizon repeater mounted on the cockpit bulkhead to allow tracking waypoint bearings and distance from the helm. Also mounted in the cockpit bulkhead are new wind speed, wind direction, depth and speed instruments. To the right of the helm at knee height is the control head for the Autohelm ST 4000 autopilot. Like most cruisers, we view this upgrade to have been one of our most appreciated tools. Leaving aside a terrible initial install by the electronics shop, which I had to redo myself, this unit has performed very well and so far the bad name that Autohelm has for dependability has not affected us.

Although Great Notions has sailed extensively in Maine and thus in the fog, we have not yet broken down and acquired radar. As long as we stay out of shipping channels in the fog, we have felt comfortable with our dead reckoning aided by GPS when visibility is limited. Although I am the electronics and navigation junky, Amy has excellent navigational skills and is blessed with both superb eyesight and an outstanding sixth sense as to where we are and what's ahead. Radar would be nice to have but we both feel safe without it. Amy, having sailed to the Bahamas with her Dad without even Loran, feels that as it is, we rely too much on electronics and too little on careful dead reckoning.






Ground Tackle


We carry a 35 LB CQR with 20 feet of chain and 200 feet of nylon rode. We plan on increasing the 20 feet of chain to 35 feet and will use the 20-foot section with our secondary 25 LB Danforth. All chain would be great but without a windlass the extra effort of pulling chain each morning and night seems more than we can handle. On Shango during the summer of 2000 I handled the all chain rode by hand instead of using the manual windlass which I found to be too slow. It was manageable for the occasional overnight cruise but not for our planned trip.




Planned Projects Before Departure
Also see Preparations


As of April 2, 2001 we are in the process of upgrading our electrical plant. Our current plan is to order and install a high output alternator (120Amps), two 370 amp 6-volt golf batteries and a dedicated cranking battery. A Linc 10 monitor will allow us to manage the system. The biggest issue with our plan will be finding the space/height for the batteries. Although we have a battery charger and 120 volt AC outlets for use when connected to shorepower we do not have an inverter, and will be buying a small portable one for use in charging our laptopÕs batteries when at sea.

A full cockpit Bimini is currently being built (Amy just had a Basil Cell removed and is trying very hard to protect her skin). If funds allow we also plan to add clear plastic panels on its sides to keep us warm and dry on the way to the Bahamas. Also under construction by the yard is a removable yet stable standing platform behind the wheel. At 5 foot 3 inches Amy would benefit from some additional height for better visibility over the cabin roof.

The oven and stove are CNG. As of this writing I've been unable to find a source of CNG in the Bahamas so we must plan accordingly. We are not exactly sure of how long 1 tank lasts. We do know that we unexpectedly ran out of fuel during our cruise to Maine last summer and had to hunt down a refill at Hinckley's on Mt. Desert. This summer prior to our departure south we will more precisely determine how many tanks we will need for 6 months and buy and construct safe storage as necessary. Current guess is that we will need 4 tanks to be safe for 6 months. We can't risk not having fresh bread!

Big-ticket items not on our current list of to-dos and which were overlooked in favor of new sails, battery power, and a full Bimini are as follows in priority order:

SSB
Liferaft
EPIRB
Radar
New Refrigeration
Water Maker
Wind Generator and/or Solar Panels
Wind Vane



Summary


After a lot of thinking and study we are viewing this trip as being divided into five types of sailing. They are:

Coastal daysails in Maine and along the East Coast to and returning from Florida
Motoring, Motoring, Motoring along the ICW...ugh!!
Very carefully selected overnights to and returning from the Bahamas
Daysails in the Bahamas
Very carefully selected long daysails from the Bahamas to Cuba and back from Cuba to the Bahamas
Given that we have already spent three years very safely sailing Great Notions in conditions exactly like these, we are comfortably although reluctantly holding off on SSB, a liferaft, EPIRB and Radar. Would we buy these if funds permitted? In a nanosecond, although I think SSB may still make the cut within our current budget. Given that budgets are always limited weÕve made our choices. Stay tuned for our reactions to our choices.
Leaving aside the issue of budgets, we also know that an Ericson 35 is not the boat we would choose to sail across oceans. Therefore, if it turns out that sailing across oceans is in our future we will be changing boats and it will make sense to make these purchases then.