Shango home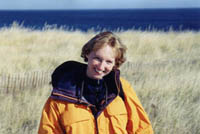 1999

June 12
Through mutual friends, we meet at a get-together in Manchester, MA. Amy is preparing to ride in the PAN MASS Challenge, a two-day bike ride across Massachusetts, and trying to finalize a boat purchase for living aboard. Roger is preparing to go on a month-long July cruise down the Maine Coast on his boat Great Notions. Getting together for a sail seems like a good thing to do...after the Maine Coast and the Pan Mass Challenge.

Columbus Day
Our first 3-day mini cruise as a twosome, from homeport of Newburyport, MA to the Isle of Shoals, NH and Cape Neddick, Maine. Picture perfect New England fall weekend with 25-30 knots on the way home.

October 22
Amy finalizes her purchase of Shango. We become a two-boat couple.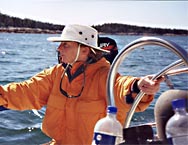 2000
November-May 2000
Six months of New England winter. Atlantic City Sail Expo in January gets us started thinking about some extended time sailing. We decide for the coming summer to live aboard Shango in Boston Harbor during the week and spend weekends aboard Great Notions in Newburyport.
June 14
Great Notions is badly damaged during freak June Northeaster. A Sabre 38 breaks free from its mooring and spends an hour plus with its transom riding on Great Notions' anchor roller and bow. Both boats spend the entire summer being repaired.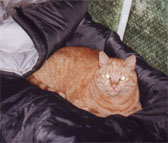 July 1-Labor Day
Roger, Amy, Butch and Milo (the cats), live aboard Shango in Boston Harbor. A wonderful summer is had by Roger, Amy and Milo. Butch decides to jump ship, opting for a life ashore. We make several weekend sails including two to Provincetown, MA. We also gain much local knowledge of the Boston Harbor Islands.
Labor Day - September 17
Great Notions is repaired and we have a wonderful two-week cruise Down East. Ragged Island, Isle Au Haut, Mistake Harbor, the Mud Hole and overnight sails to and from Penobscot Bay from Newburyport are the highlights of the trip.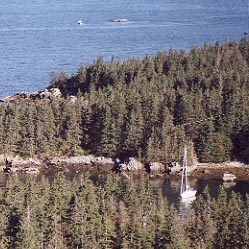 2001
January
The plan, only an idea at this time last year, is announced to family, friends and work. Atlantic City Sail Expo is spent preparing rather than dreaming.
January-July 1
House on Plum Island is rented July 1, 2001-July 1, 2002...no heading back now!